Trick-Or-Treats around Austin
Posted by Greg Ward on Friday, October 26, 2018 at 1:52 PM
By Greg Ward / October 26, 2018
Comment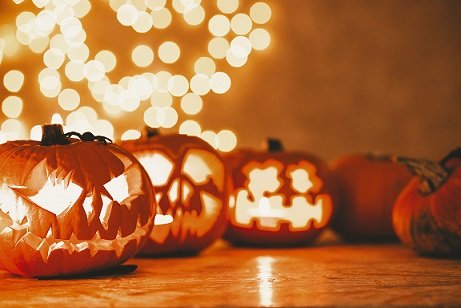 We've put a list together of a few family-friendly events around town to enjoy some safe and spooky halloween trick-or-treating.
Have fun and happy Halloween!
Trunk or Treat Carnival
Saturday, October 27 | from 4 to 7 p.m. | MCC Austin, 8601 S. 1st St.
Join MCC Austin for the 3rd annual Trunk or Treat Carnival! Children can trick or treat from car to car, enjoy carnival games with prizes, participate in a cake walk, and more!
Trunk-Or-Treat (Pflugerville)
Saturday, October 27 | from 11 a.m. to 3 p.m. | Pflugerville Animal Welfare Services, 1600 Waterbrook Dr., Pflugerville
The 4th annual Trunk-or-Treat is Saturday, October 27, from 11 a.m. to 3 p.m. Grab the kiddos, and get out the costumes a little early to join the animal shelter. There will be a photo booth, scavenger hunt, costume contest, adoptable pfurry pfriends and of course, lots of decorated trunks handing out CANDY! The costume contest will be a little different this year. Categories include: Best Homemade, Most Original, Best Duo. Ages 0-5 at 11:30 a.m. and ages 6-10 at 12:30 p.m. Everyone who participates will receive a prize!
Search for non-haunted homes in Austin here!
2nd Annual Trunk or Treat
Saturday, October 27 | from 5 to 7 p.m. | UCC Pumpkin Patch, 3500 W. Parmer Ln.
Over 25 decorated trunks will have both candy and non-food items for all! Enjoy fresh donuts from Biddy B's Mini Donut Factory, vote for Best Decorated Car, play games, strut down the costume cat walk, stop by the photo booth and finish with story time in The Pumpkin Patch. Pumpkin Patch will be open and for a small donation to their youth group, you can access the kid friendly pumpkin decorating area! All are welcome to this free event!
Trick or Treat at Hill Country Galleria
Saturday, October 27 | from 3 to 6 p.m. | Hill Country Galleria, 12700 Hill Country Blvd.
It's back! Join for some trick or treating fun at the Hill Country Galleria on Saturday, October 27. Children and pets are encouraged to wear their costumes and enjoy live music, free face painting & kids games in the Central Plaza. Then go store to store to trick or treat at participating retailers!
Howl-O-Scream
Saturday, October 27 | from 5 to 7 p.m. | Austin Parks and Recreation Department Locations: Dittmar Recreation Center, 1009 W. Dittmar Rd., Givens Recreation Center, 3811 E 12th St., Gus Garcia Recreation Center, 1201 E Rundberg Ln., Turner-Roberts Recreation Center, 7201 Colony Loop Dr.
It's time for the annual Howl-o-Scream! Bring the kids and join us at one of four Community Recreation Centers across Austin for carnival games, treats, and a haunted house! All ages welcome. Attendees can choose from 10 free tickets OR unlimited tickets and a snack for $3.
Find your Allure Real Estate Agent here for a list of spooktacular home-buys!
The Vine Austin Trunk or Treat
Sunday, October 28 | from 11:15 a.m. to 1 p.m. | Covington Middle School, 3700 Convict Hill Rd.
The Vine is serious about having fun. On Sunday, October 28, the VineKids are encouraged to wear their fun Halloween costumes to church! Kids will be invited to parade across the stage that morning to show off their fun costume- no scary costumes, please. Following church, they will have our their first Trunk or Treat! There's space available for 15 cars to go crazy with their festive designs. Trunks can be hosted by a family, friends or a Vine Group. Trunks and decorations will be whimsical, fun, light and festive. Lunch will be available. This event is open to the public so bring your friends!
Boo Bash (Georgetown)
Sunday, October 28 from 1 to 4 p.m. | The Georgetown Square, 103 West 7th St., Georgetown
Both children and adults are invited to come on down to the Georgetown Square in costume and enjoy trunk or treating around the square. Merchants are open to enjoy the season of witches, goblins, and all those creative creatures out enjoying the afternoon.
Trunk or Treat Great Hills Trail
Sunday, October 28 | from 4:30 to 6 p.m. | 9508 Great Hills Trail
Join for a night of costumes, contests, games, food, live music, fellowship and fun! This event is free and open to the public, so bring your friends. There will be fun and games for all ages, dinner will be served, and entertainment will be provided by Electric Inferno!